Pet/Fish Extruder
is used for production of extruded floor wet granular feeds for farm and domestic animals, dogs and cats, predators, birds and fish, shrimp and shellfish. The resulting food has a high digestibility and purified from pathogenic organisms.
The raw material for extrusion can be made protein and mineral supplements.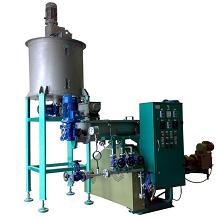 Pet Food Extruder allows to process grain and cereals of wheat, rye, corn, barley, peas, beans, lupins, soya beans, to stabilize rice bran.
Advantage
- 
feed production of high quality;
- the possibility of producing food with protein supplements;
- may produce floating, sinking and soaring in water feed;
- 
granules resistant to transportation;
- the use of various feed waste 
for the preparation of raw mixtures;
- decrease in feed consumption due to high digestibility prtsent.
Specifications
| | |
| --- | --- |
| Parameter | Value |
| Performance (for production of grain-based feed components) up to kg / h  | 200 |
| Steam consumption per 1 kg of feed, kg | 0,3-0,5 |
| Steam temperature, ° C (K) | 120-140 (393-443) |
| Steam pressure supplied to the extruder MPa (kg / cm²) | 0,3-0,6 (3-6) |
| Dimensions LxWxH, mm | 3234x1960x3029 |
| Rated capacity, kW | 50 |
| Parameters of electrical network | 380 V, 3-phase / 50Hz |
| Weight, kg | 1800 |